Expecting a new addition to the family or supporting soon-to-be parents? One of the main tasks to get done before the little one arrives is the mom-and-baby hospital stay. From must-haves to helpful extras, read on to know what to pack in a childbirth hospital bag.
When should you pack the hospital bag?
One of the most important things you'll need to do before your due date arrives is to pack your hospital bag. It's a good idea to prepare your go bag between 36 and 37 weeks of pregnancy so you'll be prepared in case you go into labor earlier than expected.
Remember that it's always better to be over-prepared than under-prepared, so pack your bag well before your due date. It's also a good idea to make sure that your partner or a family member knows where your hospital bag is in case you go into labor when they are home, and you're not.
Essential hospital bag checklist for expecting parents
Get ready for the big day with our comprehensive hospital bag checklist. We've divided the essentials into three categories: during labor, for you, and for your little one. Keeping the items separate makes it easier to grab what you need when you need it, but you could merge the birthing and personal items into one for convenience.
The hospital bag for labor
Preparing for your hospital stay during labor and childbirth requires careful thought and planning. Here are the essential items that will make your birthing journey easier.
1. Your birthing plan
A written birth plan can ensure your preferences and desires are respected once you are in the hospital. Remember to pack multiple copies of your birth plan in your hospital bag so you can share it with your obstetrician, midwife, and nurses to ensure everyone is on the same page.
2. Important documents
When you arrive at the hospital or birth center, there'll be formalities to go through first. You'll need your medical information and other important documents, such as your Medicare or insurance details, a form of ID, pre-filled hospital paperwork, and your obstetrician contact information. Make sure you grab your wallet with some cash and a credit card to pay for parking, vending machines, and any other necessary purchases during your stay.
3. Entertainment
You'll be grateful to have packed some things to help pass the time and relax while you wait for the arrival of your little one. Take a book, magazine, puzzle books, tablet and headphones to keep yourself entertained during your hospital stay. Don't forget to have something for your partner, so they can stay occupied during those waiting moments.
4. Comforts for labor
Bring props that soothe and relax you during labor, such as essential oils, affirmations, or favorite pillows. Having familiar and reassuring items around can create a calm and peaceful environment, making the birth experience a more positive and memorable one.
5. Essential toiletries
Make sure to pack some essential toiletries for your labor. We've included more toiletries below, but there are a few essentials you'll want handy when giving birth: hair ties or clips to keep your hair out of your face, lip balm, toothbrush and toothpaste, and mouthwash to feel fresh.
6. Snacks and water
Labor can be demanding — pack some of your favorite healthy snacks, such as fresh fruit, granola bars, nuts, crackers, mints or candy, to stay strong. You'll also want to bring water or electrolyte drinks, preferably in a water bottle that has a straw, to help you stay hydrated. Think about some snacks for your partner too, so they can stay nourished and focused on supporting you during this special time without leaving the birthing suite.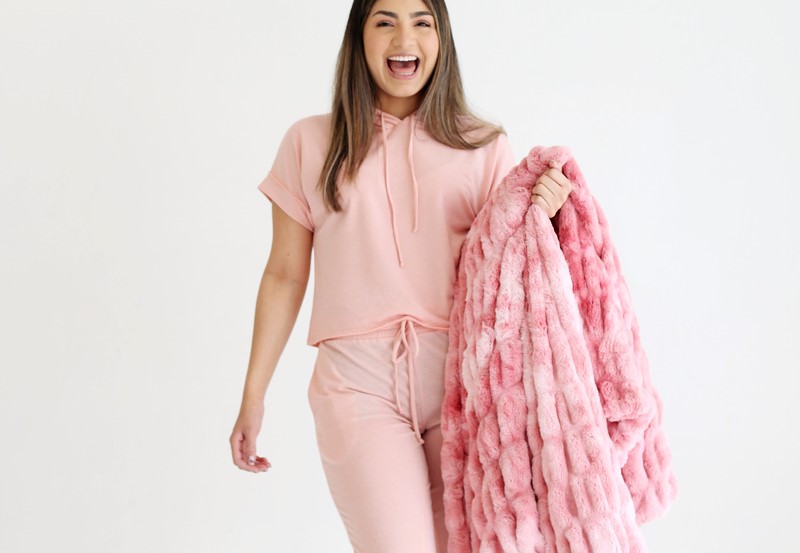 7. Swimsuit
If you're planning on having a water birth, bring a bathing suit for yourself and your partner. The sensation of being in water can provide much-needed relief during contractions, and you don't want to miss out on water therapy because you forgot to pack your swimmers.
8. Loose and lightweight clothing
Unless you have a scheduled C-section, in which case you'll be in a hospital gown, you can actually wear your choice of comfy clothes during labor, like an oversized t-shirt or loose-fitting dress. Pick an outfit that gives healthcare professionals access while leaving you free to move and be comfortable during your birthing journey.
9. Water spray
Labor is hard, sweaty work. A water spray bottle can be a lifesaver, helping you cool down and refresh between contractions. Pack one in your hospital bag for a quick pick-me-up during labor.
10. Camera and phone charger
Capture the precious moments with your new bundle of joy by packing a camera, or ensure your cell phone is ready to go by bringing a charging cable. You and your partner's phones are bound to work overtime for the baby book well before the baby arrives.
Hospital bag essentials for the new mom
With the labor and delivery out of the way, let's look at the bag checklist for mom. Remember, you'll be in the hospital an average of two days for an uncomplicated vaginal birth and four days for a cesarian. Ensure a comfortable stay and seamless transition to motherhood with these essential items on hand.
1. Comfortable clothes and nightwear
Hospitals can feel cold, so pack a couple of cozy outfits, a cardigan, soft pajamas, a nursing gown or a button-up shirt for breastfeeding convenience, and warm cozy socks.
2. Maternity underwear
Don't forget to pack essential post-delivery items like maternity pads or period underwear for postpartum bleeding. Also, take comfortable nursing bras and breast pads to protect your clothes.
3. A plush robe and comfy slippers
Enjoy your hospital stay by bringing some plush accessories to help you feel pampered. A cozy robe will be perfect for snuggling with your new baby, and slippers will keep your feet warm as you move around the hospital room.
4. Regular toiletries
Make sure you pack all your self-care essentials for your hospital stay, like a toothbrush, toothpaste, hairbrush, shampoo, conditioner, body wash, and deodorant. Take time to choose your skincare essentials like face wash, moisturizer, nipple cream, and any other personal hygiene items you may need. If you wear contact lenses, bring replacements and lens liquid, as well as glasses if you have them, to see your new baby in all their gorgeous details. Be cautious not to bring heavily scented products as that may disturb others around you, including your baby.
5. Diary/notepad and pen
Bring a diary or notepad to capture the special moments, gifts you want to write thank yous and thoughts as you embark on this exciting journey with your little one. Jot down the joys, struggles, and any random thoughts that cross your mind, and have a cherished memento of these special days.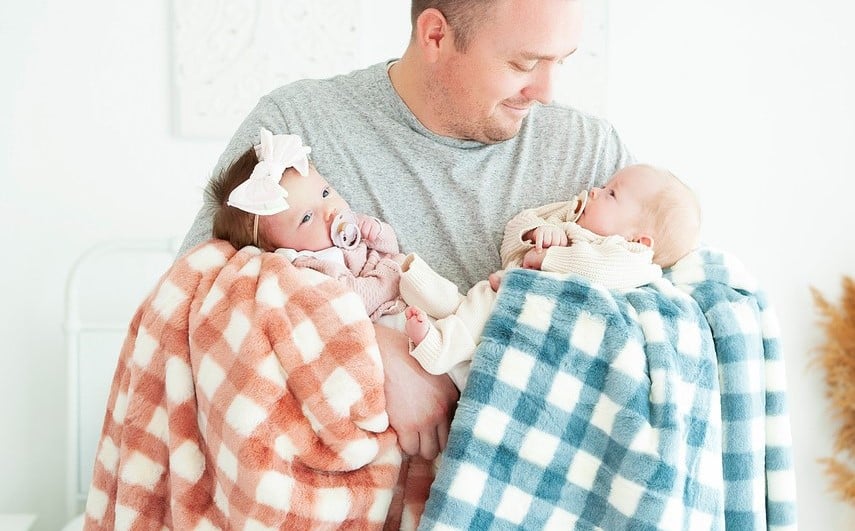 6. Eye mask and earplugs
Hospitals are noisy places, and the maternity wards are no exception. Pack an eye mask and earplugs to help ensure a peaceful night's sleep in the hospital, letting your baby's sweet coos be the only thing to wake you up.
7. Plush blanket
Take a soft and cozy blanket to the hospital, like one of these super-soft Minky Couture blankets. It will come in handy for snuggling with your newborn and keeping you warm and comfortable during your stay.
8. Dirty laundry bag
Think ahead and pack a small, disposable bag for dirty clothes, so you can easily keep your hospital room clean and organized. It'll also help when getting ready when it's time to go home.
9. Coming home outfit
Choose a comfortable and cute outfit to wear when you leave the hospital. You'll want to feel good and look great in your first family photos!
Checklist for the hospital baby bag
Your new bundle of joy is finally here! You'll be too busy to worry about shopping, so have all the baby gear packed and ready for the hospital stay.
1. Nursing pillow
A nursing pillow can provide support and comfort while you nurse your baby. It can also help position the baby correctly for a more positive breastfeeding experience. Pack one in your baby's bag to make sure you have it ready when you need it.
2. Baby clothes
Prepare a few outfits for your little one, including zip-up onesies, sleepsuits, singlets, a few pairs of socks and mittens, and at least one or two hats to keep your baby warm and cozy.
3. Burp cloths
Add to your baby's hospital bag a few muslin squares or burp cloths; they'll come in handy when you're burping your baby or dealing with any spit-up. Soft and absorbent cloths are a must-have for those messy moments.
4. Swaddle
Swaddles do wonders in helping your baby feel secure and sleep better. Pack a lightweight and soft swaddle blanket in your baby bag to soothe and comfort your little one during the hospital stay and beyond.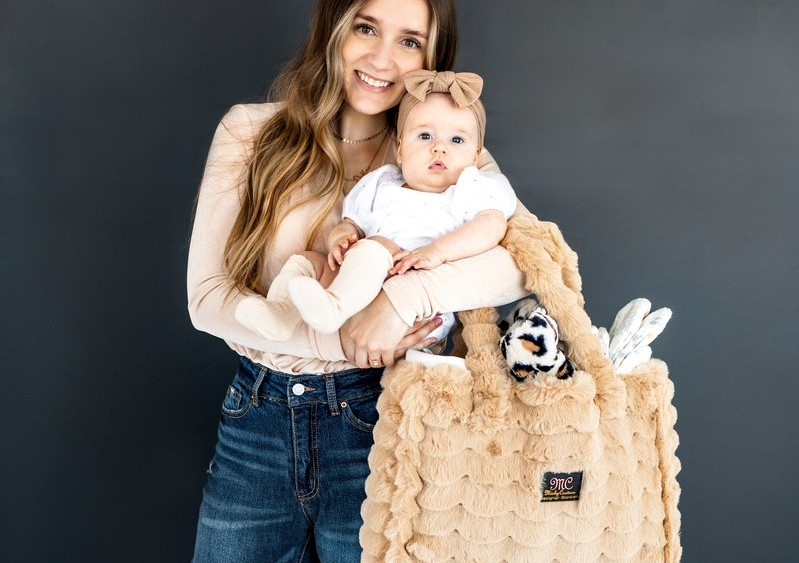 5. Soft blanket
Bring a plush Minky Couture blanket for your baby to snuggle in during their hospital stay. Your little one will love the comfort, and you'll be supporting the Heart of Minky Couture program, our mission to spread love and warmth to families in need.
6. Soft comforter
A comforter toy can provide reassurance and security for your baby, especially during their stay in the hospital. So pick out a cute and adorable security blanket to pack in your baby's hospital bag for some quality snuggling and cuddling.
7. Diaper bag
Include a diaper bag in your hospital packing list; you'll need it sooner than you think! Put inside all your baby's changing essentials, such as diapers, wipes, diaper cream, and a change of clothes.
8. The first outfit to wear home
Just like mama, the little one needs an adorable outfit for the first car ride. Pack something special for your baby's first trip home from the hospital. How about a cute and cozy onesie or a sleepsuit and hat to keep them warm and snug?
9. Car seat
Lastly, while it technically won't be going in your baby's hospital bag, remember to have a properly installed car seat to safely transport your baby home from the hospital.
Your birthing experience, your checklist
Bringing a baby into the world is an exciting and overwhelming time. We wanted to help with our comprehensive hospital bag checklist, but remember that these are just suggestions. You should pack whatever you feel you need during your hospital or birth center stay. The most important thing is to make sure you feel comfortable and prepared for your new arrival and enjoy the experience with peace of mind. Happy packing!
Sewn with love, Minky Couture