During the long and cold winter season, there's nothing more appealing than pampering yourself in the comfort of your own home. With the holiday season and the hustle and bustle of daily life, taking a moment to relax and unwind is essential for our overall well-being. Creating an at-home spa experience can be the perfect way to treat yourself and indulge in some much-needed self-care. In this blog, we'll explore 9 creative and easy-to-implement ideas for a spa day at home that will help you transform your home into a peaceful oasis this winter season. Whether you're looking to relieve stress, soothe your skin, or simply relax, we've got you covered. So, sit back, grab a warm blanket, and let's dive into the world of at-home spas.
Here are nine at-home spa routines that are perfect for winter months:
1. Take a Hot Bath:
Nothing says relaxation like a hot bath. Add some Epsom salts, essential oils, and a few drops of your favorite bubble bath for an extra luxurious experience. Light some candles and play some calming music to set the mood. Extend the relaxation by snuggline up in a cozy Minky Couture plush robe.
2. Make a DIY Facial Mask:
Facial masks can be a great way to nourish and hydrate your skin during the winter months. Make a simple mask using ingredients like honey, oatmeal, and avocado. Leave it on for 15-20 minutes while you relax and then rinse off with warm water.
3. Give Yourself an At-Home Manicure or Pedicure:
Treat yourself to a manicure or pedicure without leaving home. Gather some of your favorite nail polishes, nail files, and cuticle creams, and get to work. This is a great way to take some time for yourself and also keep your nails looking polished and healthy.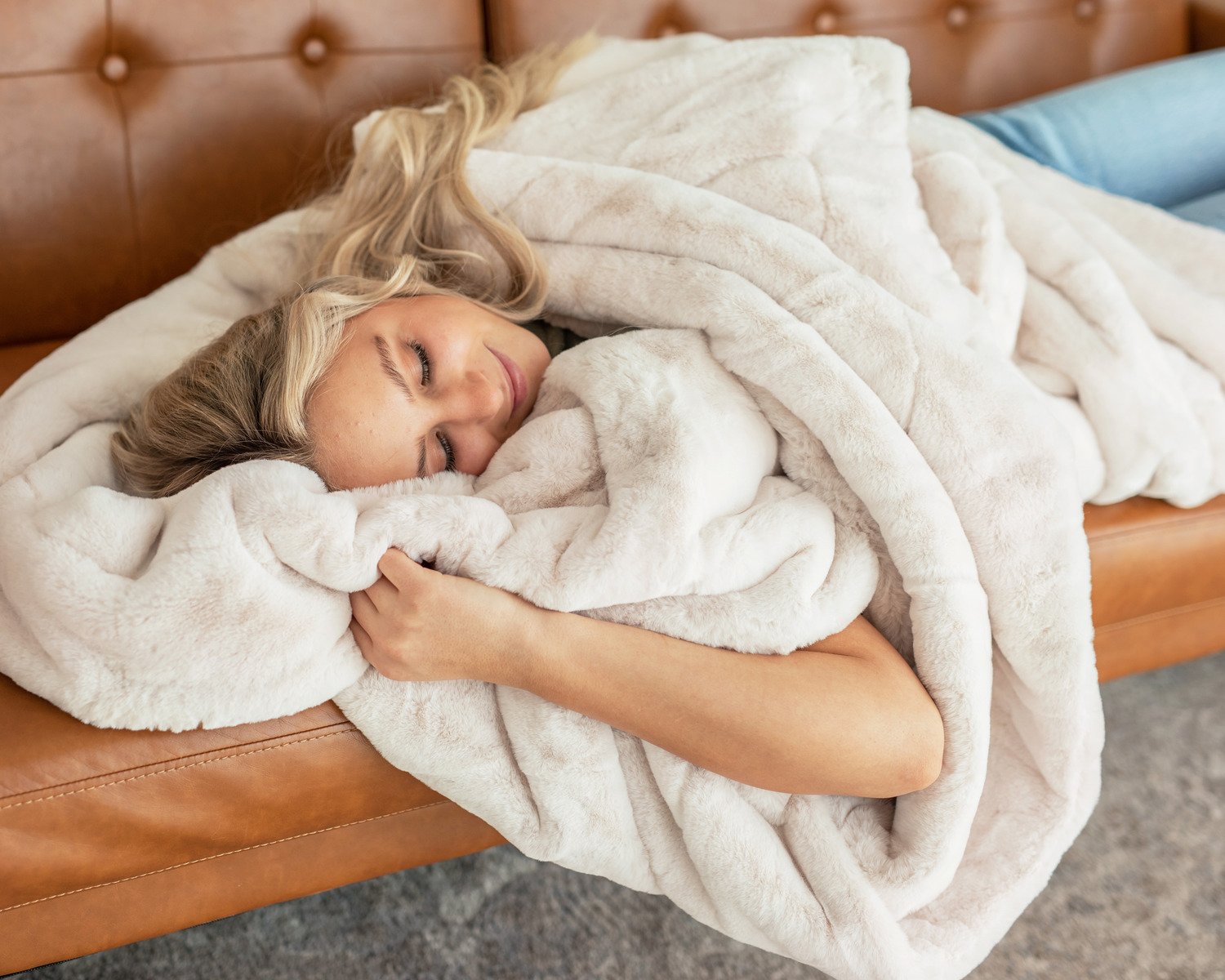 4. Give yourself a Massage:
Who doesn't love a good massage? Give your body some extra love with a self-massage. Use massage oil or lotion to help your hands or a massage tool glide smoothly over your skin as you work out any knots or tension. Remember to take deep breaths and relax while massaging your feet or hands.
5. Try Some Yoga or Meditation:
Yoga and meditation are both great for relaxation and calming the mind. Take some time to practice yoga or meditate for a few minutes each day to help center yourself and reduce stress. Learn more and practice with free meditation guides from UCLA Health.
6. Create a Home Spa Day:
Treat yourself to an indulgent spa day at home by combining a few of these ideas. Start off with a relaxing soak in the tub, followed by a facial mask and a pedicure. You can even give yourself a massage or practice some yoga or meditation.
7. Make a Hot Drink:
Create a cozy winter oasis with a hot drink. Warm up with a cup of tea, hot chocolate, or a latte. Experiment and mix different flavors to find your favorite.
8. Make a Homemade Hair Mask:
Hair masks are a great way to hydrate and nourish your hair during the winter months. Make a simple mask using ingredients like honey, yogurt, and olive oil and leave it on for 15 minutes before washing out.
9. Read a Book:
Reading can be a great way to relax and escape from reality. Choose a book that interests you and curl up with a blanket for an hour of restful reading.
In conclusion, creating an at-home spa experience can be a great way to take care of your physical and mental well-being during the winter season. From simple techniques like DIY facials to more complex at home spa day ideas like setting up a meditation corner, there are plenty of ways to create a relaxing atmosphere in the comfort of your own home. The key is to prioritize self-care and make time for yourself, even amidst the busyness of daily life. By incorporating these fun spa day at home ideas, you'll not only feel rejuvenated and refreshed, but also ready to tackle whatever challenges come your way. So, why not treat yourself to a little TLC this winter season and indulge in some well-deserved pampering with your own at home spa routine? Your mind and body will thank you for it.
Sewn with love, Minky Couture